This is a sponsored post written by me on behalf of Hallmark Hall of Fame for IZEA. All opinions are 100% mine.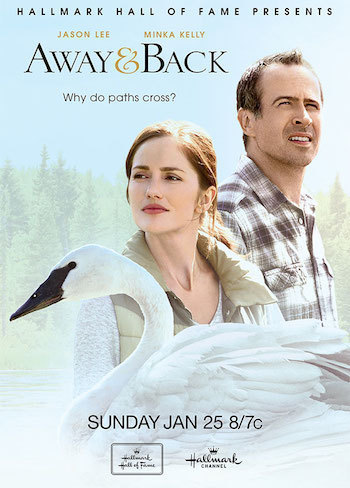 Our kids always look forward to our family movie nights that we have every Sunday. It's the one day of the week the kids can stay up just a little later and with my husband's crazy hours at work it's one of the few times we get to actually spend together as a family. My husband and I always get so excited when we come across a movie that's perfect for the whole family and isn't a cartoon!
On Sunday, 1/25 at 8/7 Central, Hallmark Hall of Fame will be airing a brand new family film on the Hallmark Channel. AWAY & BACK, which stars Jason Lee and Minka Kelly, and is directed by Jeff Bleckner, director of Hallmark Hall of Fame favorites like Loving Leah and Remember Sunday.
AWAY & BACK tells the story of tells the story of a family of swans that make their home on the Peterson farm. And itt's love at first sight for Frankie, the 10-year-old daughter. However, it's dislike at first sight for Frankie's dad Jack (Jason Lee) when the pushy no-nonsense ornithologist Ginny (Minka Kelly) rushes in to "save" the majestic birds.
To find out what happens next, tune in on Saturday 1/25!
You can also enter the fabulous AWAY & BACK Trailer – Share to Win Sweepstakes! Simply watch the trailer, sign up and share the trailer for a chance to win a family vacation! How awesome is that?
I can't wait to catch this sweet adventurous family movie Saturday! Does your family have movie nights? If so, how often?